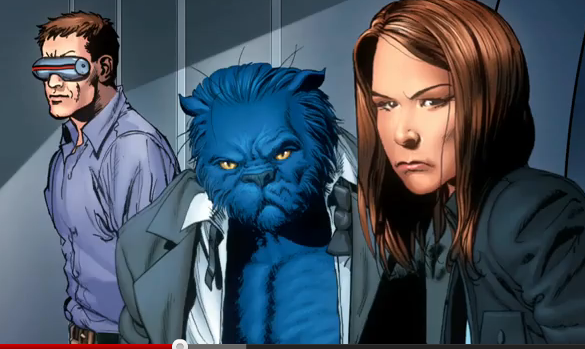 A panel/frame from the X-Men motion comic.
I've been thinking a lot recently about the intersection of motion and comics. It might be because I've been on a bit of a Sally Cruikshank kick, and when I watch the ever-fantastic Quasi at the Quackadero or Beginning, Middle, and End, I can't help but be a little jealous of animation. How could comics ever hope to compete with such fun, organic, interesting little motions? Of course, the more I thought about it the more I began to appreciate the comics medium for what it is and isn't able to do. I also started to consider the increasingly popular phenomenon of motion comics¹. Before I get too critical, though, I'd better start with a little theory, which may seem basic, but often goes unspoken.
Comics exist in a compromised space between the collaboratively consumed medium of "traditional writing" and the more passively consumed medium of film. When reading a book, a reader is expected to imagine all the elements of the story they're experiencing – the sound of the characters' voices, the look of the locations, and so on. The author of a book gives a basic instruction, but the exact execution of any aspect of the text is left to the reader. If I were to describe a character shouting "You shall not pass!" I could describe his hoarse bellow, the slight pauses between each word, and the lingering "a" in "pass" that conveys his panic. No matter how much detail I went into, though, there's still an element of interpretation on the part of the reader, who is being asked to imagine the action according to my instructions. Were I directing a film, though, the viewer would have no such collaborative power. He would see the scene, and that would be it. Any ambiguity would shift from the action itself to the interpretation of the action, making the viewer's role an essentially passive one.
Comics, being a purely visual medium, share the collaborative nature of traditional writing where sound is concerned. Where comics and "traditional" writing differ is in the visual realm. A novelist might go to great lengths to describe a certain location or manner of dress, which might necessarily disrupt the flow of the story. A comics artist is able to sidestep the scene-setting issue by drawing characters in a setting – a comics artist is able to hit the ground running. Joseph Conrad might spend five pages describing how beautiful and ghostly a boat looked in the moonlight, but a comics artist is able to draw the boat AND the characters AND include the initial dialogue all in the first panel or two. That's a pretty great advantage, and in the right hands can lead to some incredible storytelling.
The sacrifice is large, though. Dialogue takes longer to depict, and tiny motions accessible to "traditional" writers, animators, and filmographers are all but lost. While a novelist might write "her chest moved gently with each breath," and a camera would easily capture the action, a comic artist is faced with a dilemma. He could, of course, write "her chest moved gently with each breath" in a caption box superimposed over an image of "her chest." (This is what we might call the Craig Thompson method.) He could also go a more diagrammatic route, drawing first the raised chest then the lowered chest then the raised chest again, ad infinitum (this might be called the Chris Ware method.) He might write "exhale" next to the figure (the Brandon Graham method) or draw lines above the chest, indicating a kind of pseudo-cubist motion (the Segar method). These solutions are, in their own ways, narrative digressions that prose and film have much less trouble with. A breath that is important to the narrative will be given this kind of special attention in comics, but other breaths will be ignored. Traditional writing allows for much more casual detail when it comes to small motions, and film/animation are packed full of tiny motions that add personality to the characters.
Given the disadvantages comics bring upon themselves, why would anyone choose to work in the medium? Why not just write a traditional book, or make an animated movie? Aside from the obvious economic answer (all you need is a pencil! Create infinite worlds!) comics have several things going for them. As I mentioned before, comics represent a compromise between the collaborative nature of traditional reading and the passive experience of watching a film. The reader of a comic is given a large amount of control, and is still asked to imagine much of the action. It is up to the reader to mentally create the action between panels, to imagine the voices of the characters, the sounds, sensations, and so on. The artist can give some pretty specific cues as to what's going on, but it is ultimately up to the reader how he will read.
Comics also benefit (traditionally) from deliberate page composition. Although this isn't always the case now in the McCloud age of digital comics, the comic page has long been the object of careful and artful narrative experimentation. At the risk of sounding like Grant Morrison, the comic page is unique in its narrative structure. Where a book or film gives a reader a single story-element at a time, the comics page breaks a narrative into carefully composed chunks. As I said, this isn't always the case, but the composition of an entire page (and often a 2 page spread) is an important aspect of comics reading and pacing.
Given that we live in the future, a pretty obvious question can be raised in light of the weaknesses I've attributed to the comics medium. If small motions and subtleties are so difficult to depict in traditional comics, why not animate select actions in select panels/animate every panel/animate a transition panel-to-panel/create a crudely animated movie based on the panels? Why not create "motion comics?"
I'll talk about these options in reverse-order, most-animated to least-animated.
Create an animated movie based on the panels
This is the technique I see most frequently described as a "motion comic." Notable examples include Marvel's Astonishing X-Men Motion Comic, DC's Watchmen Motion Comic, and the Axe Cop motion comics. These are videos, created from the original panels of published comics, and acted out with voice acting, very crude animation, and sound effects. It may not come as a surprise to you that I hate these. First, they don't address any of the weaknesses of the comics medium, in fact, they bring those weaknesses into film, giving the viewer the worst of both mediums. Second, they remove all control from the reader, turning the experience into a completely passive one. Third, they absolutely ignore all efforts at composition on the part of the artist. The viewer never sees a complete page, and the panels, being crudely animated, are stripped of their compositional graces. I'd go on, but others have written more on the subject. If good examples in this genre exist, I have never seen them. (Is there any reason for these not to be considered animation? There's nothing comic-like about them, really.)
Animate a transition panel-to-panel
This is a more subtle version of the first kind of motion comic. AMC's The Prisoner comic is a good example of this, as is the Luther comic (demoed in the video by Mark Waid.) These don't necessarily include sound, and instead try to control the reader's pacing by showing select panels (or elements of panels) at a time. Again, I hate these. It's as if they don't trust the reader to actually read their comic. The animations that do exist, again, don't address the actual weaknesses of the comics medium, but instead amplify them. Panel and page composition is again discarded. This is a problem I've noticed in digital comics as a whole- the big digital comics publishers are very eager for a person to experience a comic one panel at a time, which makes me wonder if the programmers have ever read comics.
Animate (Almost) Every Panel
I've only seen one example of this, and it's Bottom of the Ninth by Ryan Woodward. He calls his creation the "first animated graphic novel of its kind." As you can see in this video review, it's a virtual comic book with animated gif-type animations for most of the panels, and occasional "play" buttons that trigger certain more-complex panels. This experience does include sound. His animation skills are clearly well-honed, and I have to give him credit for showing an entire page composition. That being said, I have two obvious critiques. First, why not just make an animated short film? The fact that this is presented as a comic seems more gimmicky than anything else. Secondly, if I critique this seriously as a comic I have to say that I find the constant motion really distracting. It severely undermines page composition, and makes panel size irrelevant in terms of pacing.
Animate select actions in select panels
This is the most subtle kind of motion comic, exemplified by this page from Dr. McNinja and every critic's favorite motion comic, When I am King by Demian5. This kind of comic specifically addresses the medium's weakness at conveying certain subtle motions by animating individual panels selectively. I find this the most effective type of motion comic, although I say that with some caveats. First, I still find the Dr. McNinja page fundamentally disrupted by the addition of motion. It becomes difficult for me to concentrate on the text at the top of the page when there is a flashing element at the bottom. Second, I find this style of motion comic most effective when it abandons traditional page layout, as it does in When I am King. The highly linear layout of WIAK makes the moving parts significantly less jarring, and the style of motion fits excellently with the art style. WIAK is notably wordless, though, allowing the story to progress without the artificial pauses created by reading word balloons, so I'm not sure how well Demian5's technique would work in a story with dialogue. Honestly, as much as I like certain cinemagraphs, I don't think I could read a comic full of them. The medium has a weakness, but so does every medium – a skilled artist works with it.
I don't think motion comics are going away, and I suspect there will be more and more experiments into the genre. I'm interested to see what people come up with, but, in case my bias isn't already clear enough, I would much rather see more experiments where artists try to convey subtle motions through static artwork. I think ultimately the frustration of the medium's limitations will lead to much more beautiful results, and I'd rather see an inspired "failure" than a lazy, boring "success" any day.
——————
¹I know motion comics have been written about on this site before, and I hope I'm not being too redundant. I thought it would be interesting to present a kind of general theory instead of a specific review, but I would highly recommend reading Richard Cook and vommarlowe's pieces along the same lines.